products
Centralize the management and orchestration of all your desktop application containers within seconds with a single, easy-to-use cloud platform.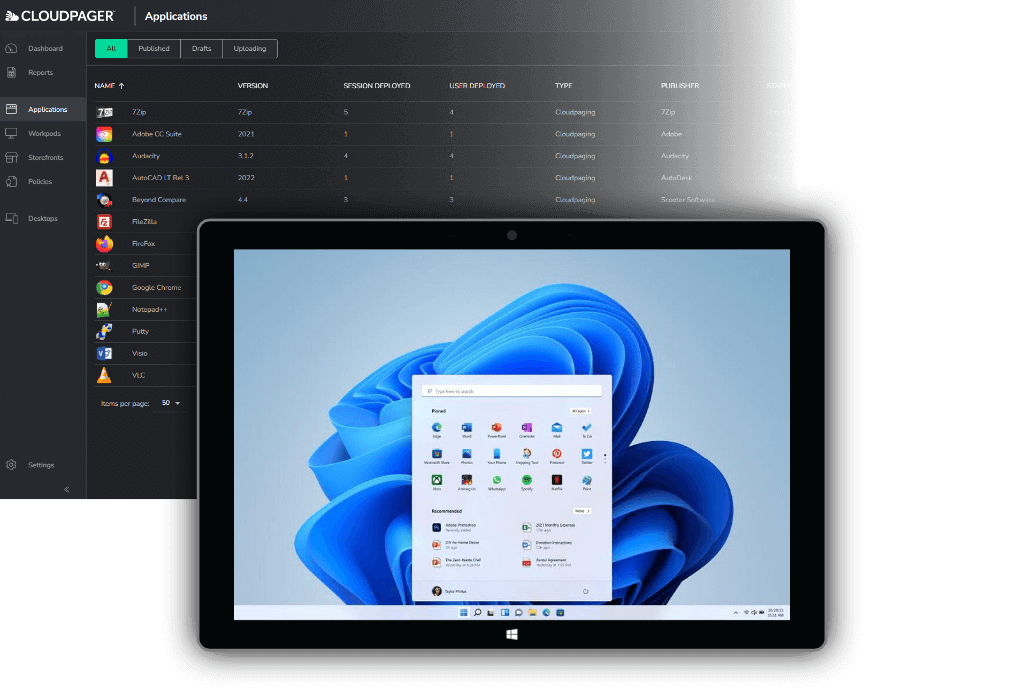 The Only Container Management Platform for Windows Desktops
Cloudpager™ makes it easy to create, automate, and manage even the most complex desktop environments from the cloud. Delivered as a fully managed software as a service (SaaS) solution, you can seamlessly leverage your existing and future Windows technologies, such as Azure Virtual Desktop, Windows 365, and Windows 11.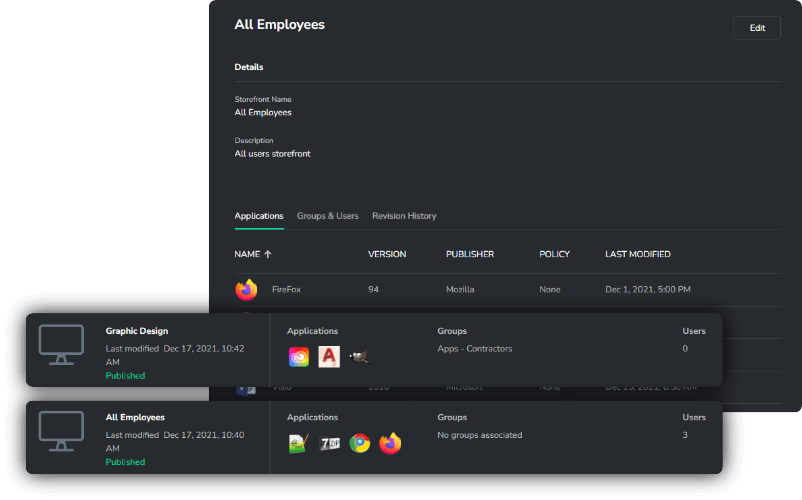 It's Time for Cloud-Based Container Management
Cloudpager finally brings modern DevOps and agile technologies, such as Kubernetes and Docker, to manage application containers across modern Windows desktop and multi-cloud environments. This streamlines application management while instantly modernizing your Windows applications and container formats (e.g., App-V) for the latest Windows technologies, including Azure Virtual Desktop and Windows 365.
Container Support
Native support for Cloudpaging, MSIX, App-V, and WAM ensures the most modern, flexible, and cost-efficient way to securely manage desktop applications.
Enterprise-Grade
Cloudpager provides global service coverage, unparalleled flexibility, and feature-rich capabilities to deploy application containers across enterprises of any scale within seconds.
Simplicity
Easily create, manage, and monitor desktop environments across your enterprise in a highly automated fashion while integrating to the latest cloud technologies from an intuitive cloud console.
Cost Efficiency
Cloudpager drastically reduces application packaging and deployment overhead. It also enables applications to seamlessly run on Windows 10 Enterprise multi-session, the least expensive Windows operating environment.
Container Management Has Never Looked Better
Best-in-Class User Experience and Interface
From an intuitive console, IT can easily manage, monitor, configure, and deploy desktop application containers across your enterprise within minutes, including Azure AD groups and users.
Drag and Drop Cloud Adoption
Getting to the cloud is as simple as dragging-and-dropping your application containers to the platform and publishing them to configured desktops and storefronts.
In-Depth Dashboards and Reports
Cloudpager provides comprehensive yet consumable insights into the health of your desktop environments, including performance, load times, and more.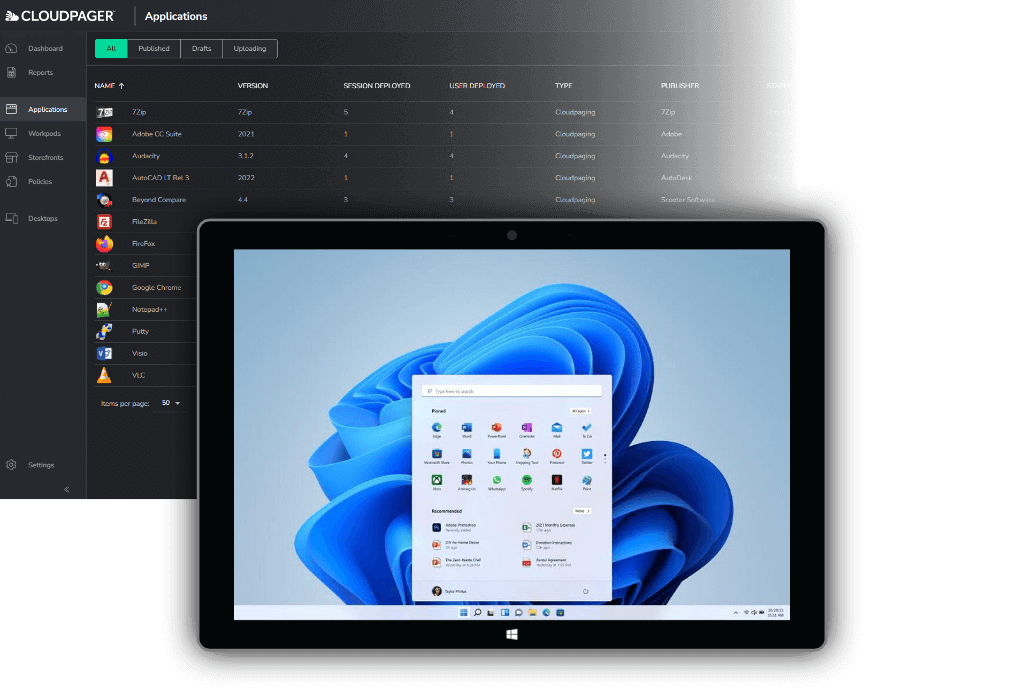 Orchestration Has Never Been Easier
One Solution for All Windows Desktops
Cloudpager supports all Azure virtual machine types, such as Azure Virtual Desktop and Windows 365, and all physical Windows desktops. Cloudpager also provides hybrid, on-premises, and multi-cloud support for AWS and Google Cloud.
Designed for Cloud-Forward Enterprises
Built on a global cloud backbone, Cloudpager delivers maximum agility and scalability while eliminating the need to manage customer-side servers and databases infrastructure.
Automate Complex and Redundant Configuration Tasks
Automate in seconds using Cloudpager's easy-to-use UI. Seamlessly deploy and manage user environments across modern desktop environments, such as Azure Virtual Desktop, Windows 365, Citrix Virtual Apps & Desktops, VMware Horizon, and more. Or leverage PowerShell with Cloudpager to automate deployments.
IT Operations Management Features
Track All Changes
Versioning is built into Cloudpager so that all changes are tracked. Administrators can confidently collaborate when configuring and deploying containers to end-users.
Audit-Ready
Administrators can view who performed all actions taken on the platform. They have the option to view a comprehensive changelog or snapshot of the system from a specific point in time.
Execute Instant Rollbacks
Instantly roll back any changes. Rollbacks never remove or erase versions, ensuring every change is preserved.
Software Asset Management Simplified
Centralize and Enhance Insights
Streamline visibility into enterprise IT resources, including the performance and utilization of end user desktop environments.
Automate Policy Enforcement
Set deployment constraints for online and offline applications to reduce software costs and adhere to regulatory compliance.
Keep Every App Fully Up-to-Date
Push applications and updates directly and rapidly to end user devices without requiring them to log off or reboot.
Measure and Track Software Costs
Track and calculate the true cost of software licenses per seat or by tracking usage to the second, month, or year​.
Accelerate Your Cloud Initiatives
Azure Virtual Desktop
Reduce Azure Virtual Desktop adoption friction and costs by centralizing your applications in the cloud.
Windows 365
Transform Cloud PCs into enterprise-ready desktops and manage application deployments from an intuitive console.
App Modernization
Lift and shift your entire Windows application estate to modern desktop and multi-cloud environments.
Key Features
Built upon our groundbreaking Cloudpaging technology and global cloud backbone, Cloudpager enables IT to maximize uptime, simplify configuration management, and expand visibility and control over software assets from an intuitive cloud management console.
Best UX and UI in EUC
Get up to speed fast using our advanced UX design while improving the management of apps and desktops from our intuitive cloud-based console.
Multiple Container Formats
Seamlessly upload Cloudpaging, App-V, and MSIX containers with a simple drag-and-drop and deploy them across your enterprise all in a matter of minutes.
Azure AD Integration
Use role-based Azure AD policies to manage administrator and storefront access, as well as deployments to groups and users.
Dynamic Provisioning
Auto-deploy complex sets of applications to end user desktops within seconds, including those in active sessions.
Real-Time Deployment
Dynamically provision software and updates across your enterprise within seconds, without installations or reboots.
Software Reclamation
Execute real-time software reclamation to reduce software licenses costs and manage compliance and expenses.
In-Depth Insights
Meter and report on all application usage, with intuitive dashboards, built-in CMDB, and versioning.
No Servers or Databases
Move to a SaaS platform to eliminate the management of servers and databases.
Reduce Base Images
Remove applications from base images by streaming Cloudpaging containers directly from the cloud.
Maximize Application Compatibility and Portability
Cloudpaging enables all Windows applications, including the most complex legacy and custom applications, to seamlessly run across modern desktop and multi-cloud environments without the need to be repackaged.
"Numecent's Cloudpaging technology has provided our prospects with an improved user experience, enabling PTC to radically improve the success of the Creo trial program, leading to an increase in new customers."
Jim Barret – Smith, Product Management Director, PTC
Case Study
Discover how South Wales Fire and Rescue Service is Revolutionizing Incident Response Training with Cutting-Edge Application Virtualization and Modern Provisioning from Numecent
Additional Resources
Case Studies
Discover why enterprises trust Numecent to simplify application packaging and deployment across modern desktop environments.
Whitepaper
Learn how our industry-leading container technology delivers the highest rate of application compatibility.