Introducing Cloudpager 1
Introducing Cloudpager
Empower members of IT to manage thousands of diverse desktop environments across your enterprise from an intuitive cloud management console.
Your Fastest Route to the Cloud
Packaging Headaches Are Gone for Good
Cloudpaging ensures even the most complex applications can run as if natively installed across modern Windows desktop environments.
MS AVD
Cloudpager for Azure Virtual Desktop
Dynamically provision complex desktop environments across your enterprise within seconds.
Lift and Shift
Lift and Shift All Your Apps and Desktops to the Cloud
Simply drag-and-drop your application containers to Cloudpager and you're there.
Introducing Cloudpager™
Built upon the most advanced cloud application virtualization technology and decades of research, Cloudpager is the only container management platform for Windows desktops.
Provide IT with Best UX in EUC
From an intuitive cloud management console, IT can easily create, orchestrate, and provision even the most complex desktop environments in a highly automated fashion.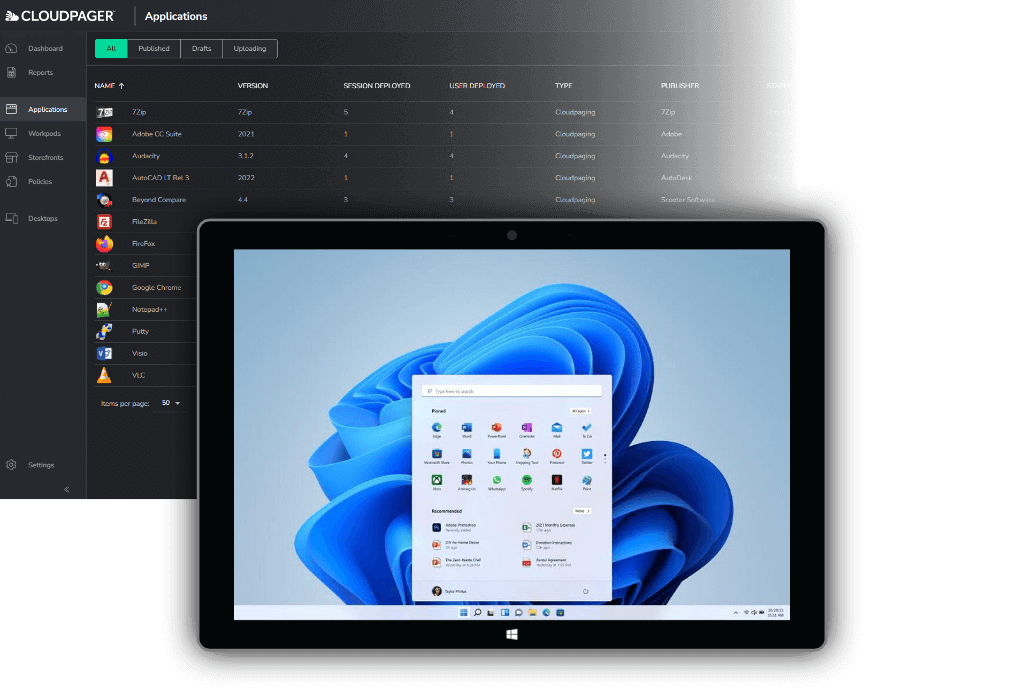 Lift and Shift All Your Desktop Applications to the Cloud
Accelerating your cloud journey is as simple as a drag-and-drop to upload Cloudpaging, App-V, or MSIX application containers, configuring deployments, and hitting "publish".
Unlock the Full Power of Windows
Built on a global cloud backbone, Cloudpager can dynamically provision containers to any Azure AD group, user, or device within seconds.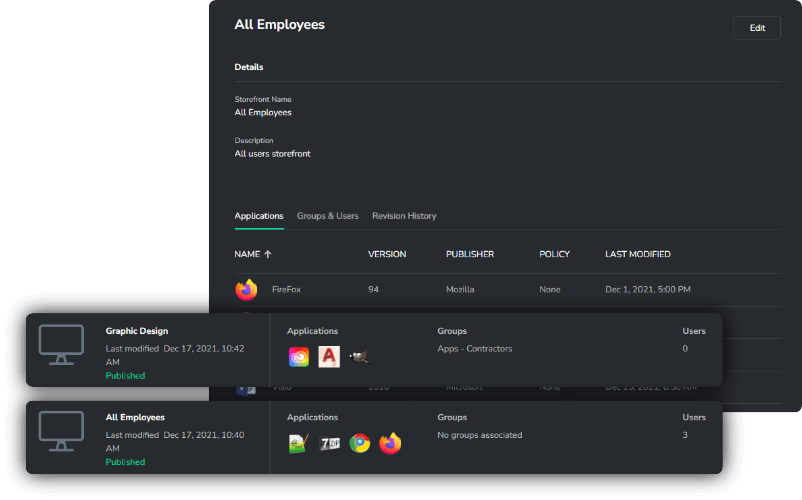 Numecent Enhances Enterprise IT Around the World
| | |
| --- | --- |
| 20-100x | faster launch times |
| | |
| --- | --- |
| 20 Years | of Windows OS supported |
Cloudpaging Maximizes Application Compatibility and Portability
What is Cloudpaging?
Numecent's groundbreaking cloud application virtualization technology. It enables any Windows application to run as if natively installed across modern desktop environments, regardless of the operating system it was designed for.
'Magic' is perhaps the only proper term to describe what Numecent's technology feels like in action…this could have wide implications for how we access applications and downloads in the future."
Fast Company
"This startup could literally change the entire software industry"
"The technology could shake up the burgeoning world of apps"
Winner of Red Herring 100 Technology Companies in North America
Case study
Want to see how a $4 billion organization uses Cloudpaging?
PTC (NASDAQ: PTC) is a global provider of technology platforms and solutions that transform how companies create, operate, and service the "things" in the Internet of Things (IoT). PTC uses Cloudpaging to power the deployment of its software. The implementation of Cloudpaging has increased the success rate of the PTC's CREO 3D CAD software trials by over 5x, while decreasing the time to launch from almost 90 minutes to less than five minutes. Read the case study below to learn more.