SOLUTIONS
Amazon WorkSpaces
Seamlessly provision all your Windows application containers to Amazon WorkSpaces and physical desktop environments from an intuitive cloud management console
Cloudpager Provides Native Support for Amazon WorkSpaces
Cloudpager is the first solution to provide native support for Amazon WorkSpaces and Amazon WorkSpaces Application Manager (WAM) packages. This ensures you can centralize the management and deployment of your existing WAM applications in the cloud alongside your App-V, MSIX, and Cloudpaging application containers.
Ensure All Your Applications Can Run on Amazon WorkSpaces
Cloudpager enables all Windows desktop applications and container formats to lift and shift to Amazon WorkSpaces, including those that are not inherently compatible with Desktop-as-a-Service (DaaS). This minimizes configuration requirements and DaaS complexity, significantly reducing migration, operating, and software licensing costs.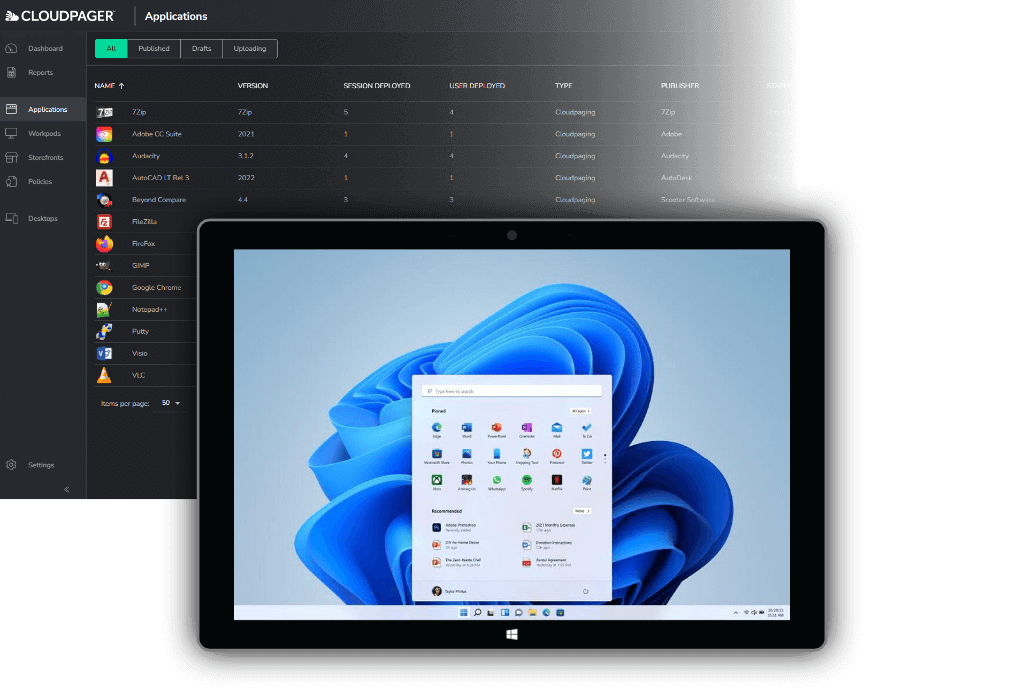 Streamline Deployments Across Physical and Virtual Desktops
Built on our global cloud backbone, Cloudpager provides a robust yet intuitive software-as-a-service platform to orchestrate and manage application deployments across your enterprise, from Amazon WorkSpaces to physical laptops and desktops.
Immediately Improve Application Performance
Numecent's Cloudpaging technology requires less than 10 percent of an application to launch, enabling end users to launch applications within seconds. For existing WorkSpaces Application Manager (WAM) customers, simply switching to Cloudpager enables applications to runner faster and smoother than ever before without making any changes to WAM packages.
Why AWS Decided to Partner with Numecent
Kevin Goodman discuss our respective visions for the future of EUC, how the AWS and Numecent partnership came to fruition, the benefits of Cloudpager for Amazon WorkSpaces, how existing WAM customers can automatically upgrade from WAM to Cloudpager, and what our partnership means for the future of remote work.
"Deploying Numecent's Cloudpager has been one of the easiest and simplest implementations we have ever done. Our existing WorkSpaces Application Manager packages were completely migrated by their support staff with no issues. The subscription process and configuration was very straightforward, and the integration with our identity provider was completely seamless. Deploying the applications to Amazon WorkSpaces was very fast and the performance so far is excellent".
David Merrill, IT Technical Lead, Vitech Inc.
Upgrade from WAM to Cloudpager
We have partnered with AWS to facilitate a fully managed migration of your Amazon WAM applications to Cloudpager. All you have to do is create a support ticket and your WAM packages will be automatically moved to Cloudpager, while ensuring all your applications maintain their contents and functionality (e.g., fonts, drivers support, CAEs).
Case Study
Discover How a Leading Cloud Services Provider Enhanced DaaS Application Provisioning for More Than 100,000 Virtual Desktops
Additional Resources
Press Release
Numecent announces Cloudpager is the first to provide native support for Amazon WorkSpaces and WAM packages.
Video
Watch AWS and Numecent discuss the benefits of Cloudpager for Amazon WorkSpaces and the future of remote work.