SOLUTIONS
Citrix
Maximize application compatibility and deployment success across Citrix Virtual Apps and Desktops and Citrix DaaS environments
Modernize Application Management Across All Citrix Desktops
Traditional Deployment Tools Are Not Suited for Non-Persistent VDI or DaaS
Installing applications every time a non-persistent machine reboots or a user logs in using a systems management product is inefficient as full installs occur every time there is a scheduled or unscheduled reboot and installing on log-in can lead to a poor user experience where a user is logged into their desktop session but their applications do not appear for several minutes.
Read More
Avoid Citrix Image Sprawl
IT teams often install all required applications into their PVS vDisk or MCS snapshot. This approach to managing applications in a Citrix environment can be time consuming and complex. Application conflicts can lead to silo'ing applications on separate machines and an inevitable image sprawl, requiring more time, effort, and hardware resources to support them.
Learn More
Establish Modern Application Management for Citrix VDI and DaaS with Cloudpager
Cloudpager provides a modern, born-in-the-cloud solution to dynamically provision, update, roll back, recall, and meter your entire application estate across all your Citrix desktop environments from a single pane of glass.
Learn More About Cloudpager
Run All Your Applications in Any Citrix Environment
Cloudpaging enables you to seamlessly package, provision, and patch your entire application estate across Windows desktops and session hosts running in Windows Server 2016, Windows Server 2019, and Windows Server 2022 environments, enabling you to get the best user-to-machine density possible.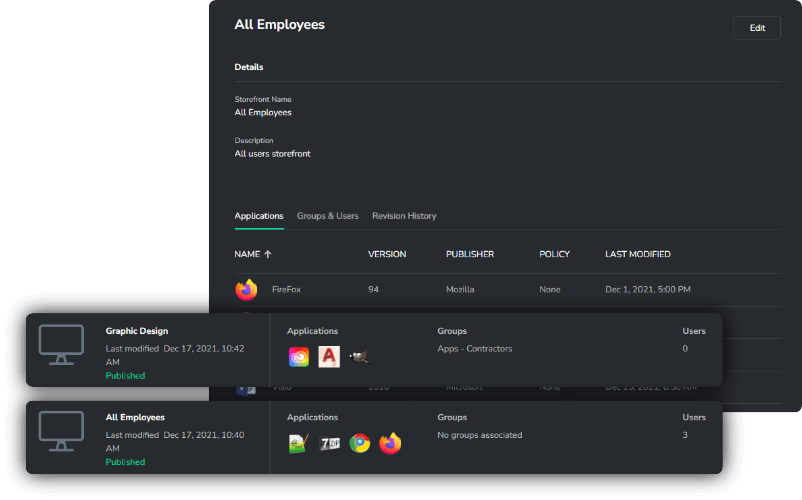 Maximize Application Compatibility
Cloudpaging can help package all of your applications including legacy applications that you have struggled to bring forward to a modern operating system Cloudpaging offers a path forward for your legacy applications by handling your legacy installers, applications that require compatibility mode, those that require obsolete OS components and more.
Learn How
Achieve a Single Golden Image
Cloudpaging containers enable you to dynamically provision applications from the cloud, eliminating the need for custom desktop images and repackaging applications for different Windows Server and virtual desktop environments. You can then leverage all your sessions hosts for all users, rather than splitting up sessions hosts into silos for separate applications and specific sub-sets of users. Ultimately, this can reduce the amount of hardware required and maximizes Server-to-user density.
Learn More
Integrate to Citrix Deployment Mechanisms
Cloudpaging containers can be deployed to your Citrix DaaS or on-premises Citrix Virtual Apps and Desktops users with ease. Get the benefits of dynamically provisioning applications run on your session hosts by publishing the Cloudpaging containers in Citrix Studio or provision applications directly to user desktop sessions via Cloudpager.
Dynamically Provision Applications and Updates
Cloudpaging containers enable you to dynamically provision applications, patches, and updates directly to Citrix Storefront or end user devices without building them into your base image. By provisioning applications directly from the cloud, applications and patches can be provisioned into active users sessions without requiring end users to log out or reboot.
Learn More
Run Applications in Multi-Session Environments
Many Windows applications are not inherently built to run on multi-session environments. Cloudpaging containers enable these applications to work on your multi-session operating systems by mitigating application conflicts and isolating troublesome dependencies. This allows applications to travel with users dynamically across session hosts. This drastically reduces licensing costs and the need for custom images.
Learn More
Case Study
How a Global Banking and Financial Services Institution Achieved a Single Base Image for More Than 100,000 Citrix VDI Users
Key Use Cases
Simplify the mobilization and management of your Windows applications across on-premises and cloud-based Citrix environments
Lift and Shift to Modern Windows Environments
Even the most complex legacy and customized applications can be packaged within a day. They can then seamlessly run across your Citrix estate without being repackaged for different devices, server environments, or OS.
Application Management for Hybrid IT Scenarios
Not all applications are suited to run as published applications. Cloudpager enhances application management across Citrix hosts and provides a means to provision applications directly to physical endpoints.
Simplify Software License Management
Cloudpaging enables you to set restrictions at the application-level, such as the number of concurrent users and time-bound usage constraints, with automated policy enforcement to ensure you are not wasting money on unused or unauthorized licenses.
Reduce App Packaging and VDI Run Costs
Cloudpaging enables you to maximize server density by removing applications from base images and streaming them to end users on-demand, including multi-session environments.
Numecent is a Citrix-Ready Partner
Numecent technologies ensure all your applications, including the most complex legacy and custom applications, are able to be packaged and deployed to the latest Citrix environments, regardless of the original operating system they were designed for.
Additional Resources
Case Studies
Discover why enterprises trust Numecent to simplify application packaging and deployment across modern desktop environments.
Whitepaper
Learn how our industry-leading container technology delivers the highest rate of application compatibility.