Cloudpager is the first and only container management platform for Windows desktops
We are beyond excited to announce the release of Cloudpager. The platform builds upon our Cloudpaging technology and decades of research on desktop management, application container, application virtualization, application streaming, and collaboration. Ultimately, it was designed to provide IT administrators and end users alike with the best possible user experience.
Deploy Even the Most Complex Desktop Environments Across Your Enterprise Within Minutes
Cloudpager enables administrators to seamlessly orchestrate and deploy even the most complex desktop environments in a highly automated fashion from an intuitive cloud management console. With support for multiple container formats — including Cloudpaging, App-V, and MSIX — it is the fastest route for enterprises to centralize desktop applications in the cloud. Getting started is as simple as a drag-and-drop of application containers to the Cloudpager management console. From there, administrators can dynamically provision containers across any modern Windows desktop environment, including as Azure Virtual Desktop, Windows 365, Citrix Virtual Apps & Desktops, and physical desktops and laptops.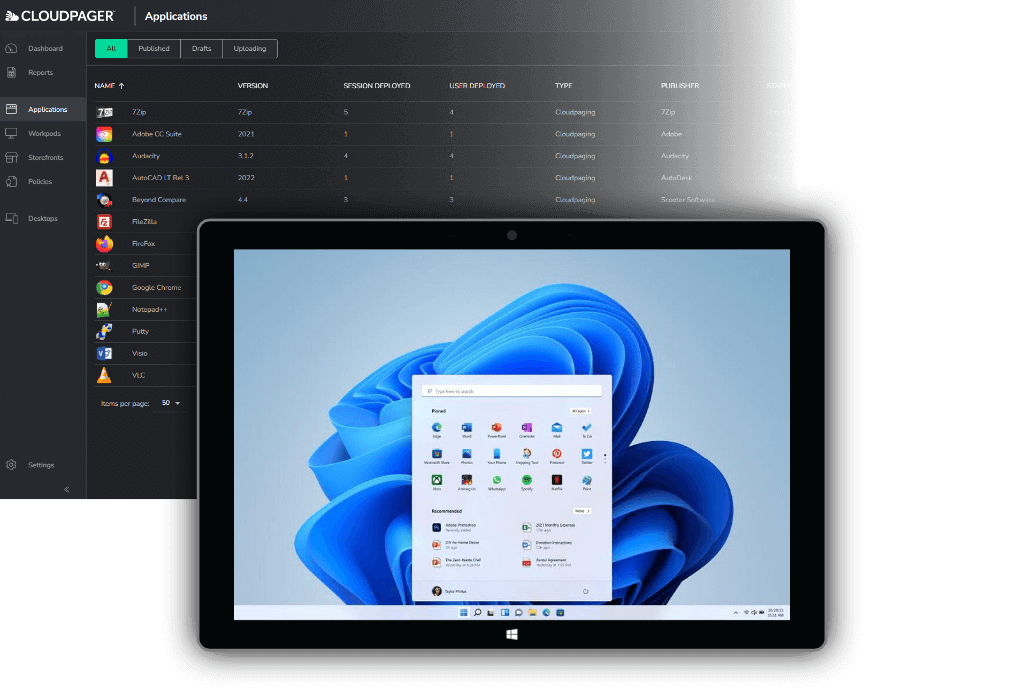 As far as end users are concerned, it's business as usual regardless of where they reside. Whether running virtual desktops, Cloud PCs, or their existing physical Windows desktops, they get a native desktop experience. Because Cloudpager is a cloud-hosted container management platform, software and updates can be dynamically provisioned to their desktops without rebooting. No more downtime for application installations or updates.
That's just the tip of the iceberg. Visit our product page for Cloudpager to learn more.
See Cloudpager in Action!
Schedule a demonstration with our Solutions Architects to see how you can upload and deploy application containers across your enterprise within a matter of minutes.